CRANES
Authorized Channel Partner of KITO CRANES AND ELECTRICAL HOISTS
As a Japanese high-tech manufacturer, KITO stands for innovation, precision and trust. With more than 80 years of experience in the manufacture of hoists and cranes, the company is a world leader in quality. Our products move millions of tonnes of heavyweight daily in industries such as automotive or power generation. Behind this power we are more than 2300 employees worldwide..
---
The light crane systems are designed for workstation and production lines. Our aluminum or steel light crane system meets or exceeds all requirements for workstation and production lines that require up to 2 tons of lifting capacity.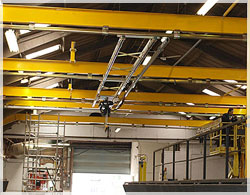 ---
Light steel crane systems with
strength and glide
Its strength and easy adaptability means the XM light crane system can be used throughout your entire production line. Different rail configurations, including monorails and single and double girder cranes, add to its versatility. With the Konecranes Air Balancer, the XM light crane system provides a smooth journey, even across joints.
---
Konecranes jib cranes are very easy to install, use, and even relocate in your work environment. Their standard capacity is up to 2 metric tons, so their application can adapt with your changing needs. Types of jib cranes are pillar mounted and wall mounted with underbrazed / overbrazed models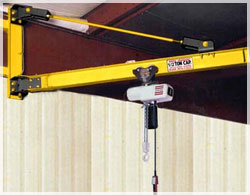 ---
The load manipulators are the air balancers and Vertical lifters. These aid picking, lifting, moving and placing the products by hand at no weight of product. The operations with these are smooth and fast.
---
The air balancer can lift any load upto 350 Kgs feels weightless as we move. Air balancing equipment is excellent for assembly processes, repair, and industrial production tasks in many industries, including manufacturing, solar energy, automotive, railroad, aviation, health care, and food.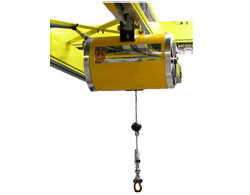 ---
The Vertical Lifter is a telescopic lifting device for use with an XA workstation Crane Unlike conventional chain or rope hoists, it can lift loads up to 1,600 kilos outside the center of gravity.
---
Hoists are industrial lifting devices that use either a wire rope, chain, or belt to lift and move a load. They are attached to cranes or other lifting equipment. Konecranes supplies hoists globally and tops its equipment with extensive range of available services.