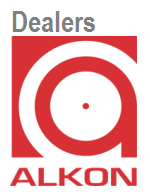 Stematic owns a dealership of a legend Indian brand ALKON.
ALKON PLASTICS PVT. LTD. 30 years old firm Manufacturer and exporter of plastic material handling products.. The company prides itself on the continual development of product lines to ensure that the changing customer requirements are continuously satisfied.
In this age of rising energy costs, environmental concerns, resource efficiency is a key principle we live by. The entire product range is reusable and recyclable, leading to very low levels of material waste.
Alkonmanufacture of high quality Injection Moulded Material Handling Bins, Storage Boxes, Bin Shelving Systems, ESD Safe Products, Office Filing / Storage Systems..
the products are used in a broad variety of Industrial segments including Automotive, Electronic, Engineering and also in Pharma , Hospitals & Offices.